Listen to this audio Pats Postcard from the East Coast of Australia - click here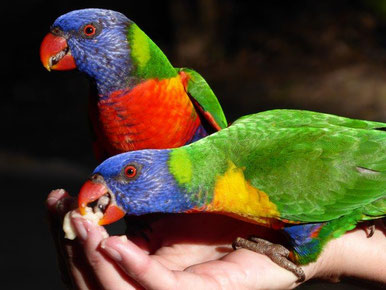 East Coast Road Trip Part 2 – Hervey Bay to Rollingstone.
This is Part 2 of our road trip up the eastern side of Australia. We're in Queensland halfway through our 2,500km trip and this section takes us from Hervey Bay to our destination at Rollingstone just north of Townsville. And whilst there's many miles to travel the main purpose of this part of the journey is to visit family and friends before starting work at the Rollingstone Beach Front Resort. 
First port of call is the attractive and cosmopolitan resort town of Airlie Beach. Surrounded by national parks the town has a lovely setting with low rise development, a bustling CBD, tasteful reserves along the seafront with a splendid swimming lagoon, there's a harbour and a vibrant Saturday market – we liked it here. It's also the gateway to the magnificent Whitsunday Islands that really do live up to their picture perfect image.
We stayed at the Big 4 Airlie Cove Park, a lovely setting with a new cabin and amazing staff. Michael and Emma were charming and so helpful. Every morning at 8am was bird feeding time – wild rainbow lorrikeets. And there's hundreds waiting in the tree for the staff member to bring them brekkie and then they swoop en masse.
We were in Airlie to meet up with family and we all went for a day out to Hamilton Island, one of the Whitsunday's. A lovely hour long sail with a very French sounding captain.
We had a wonderful day, strolling and swimming and exploring the island via a golf buggy.  Our daughter was the nominated driver and even after a lesson the parents were a little concerned with some of the driving.   There were a number of shrieks and an expletive or two.   I don't think all of us fully relaxed but it was a great way to see the island and some very expensive real estate.
After a few days at Airlie Beach it was onwards to visit friends in Ayr. Like us Darrell and Michelle manage caravan parks and resorts. They're currently managing the Burdekin Cascades Caravan Park,  and the next Pats Postcard will be their story of how they sold the family business, rented the family home in Byron Bay and relocated to the other end of Australia – quite a courageous thing to do.
From Ayr it's a short hop to Townsville, capital of north Queensland and then Rollingstone, where we'll stop rolling for 4 months when we work on the Resort with it's absolute beach front, coconut palms and luxurious swimming pool. It will be winter with average temperatures in the high 20's centigrade.   Nice!  It's all part of our plan to work just 6 months of the year and miss out on the cold of winter.